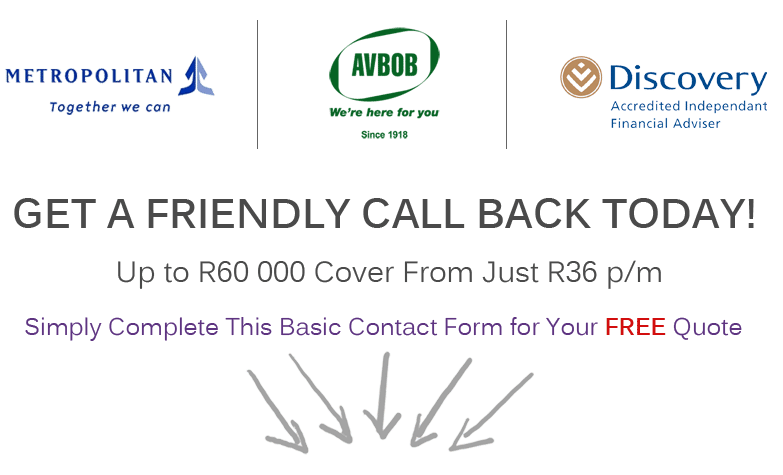 ---

---
Welcome to Funeral Cover ME
---
At Funeral Cover ME, we have scoured the nation to bring the most affordable funeral cover providers. Our main aim was to bring you trustworthy and consistent funeral insurance quotes. We are proud to be in a position where we can provide a free quoting service to the people of South-Africa. This service is proudly brought to you by InShoor™, a registered financial services provider # 43216.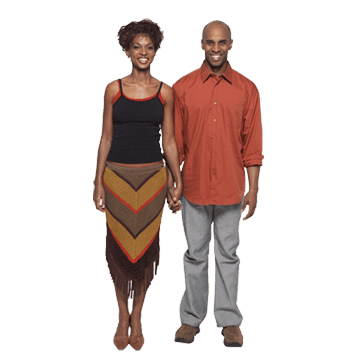 You can use our website to get funeral cover quotes from South Africa's top service providers. We have made the process of finding inexpensive funeral cover easy and hassle free. In order to get your free quote, all you need to do is complete our basic contact form. We will contact you as soon as possible to discuss the requested product with you. The good news is that you will receive a single phone call. We do not hand your details to the providers; we handle it in-house. Thus, eliminating the amount of time wasted on the telephone.
We supply you with the necessary material to make an informed decision based on your needs. On our humble website, you can find the product description for every provider. Armed with this information, you can locate the funeral plan that best suits your exact needs. You can find funeral cover for yourself, your family or even your deserving employees.
We provide a complete solution; you can find the best funeral plan for every circumstance. We hope you find the right product for your needs. If you need any assistance, feel free to ask your friendly consultant for more information. Feel free to browse our website for interesting facts, articles and news regarding the industry. We cherish our customers and hope you have an amazing experience on our website.
Why Do I Need Funeral Cover?
---
Funeral cover makes sure that you or your family have money available if you or an insured family member passes away. The difference between generic life insurance and funeral cover is you will have money available swiftly. Most providers promise your cash payout under 48 hours. This is obviously subject to receiving the required documents. Some funeral cover providers make payments as soon as 6 hours after submission.
This will assist you or your family financial in a very sensitive time. Arranging a funeral can be extremely expensive. Not having funeral cover can force your family to pay for the funeral out of their own pockets. Much like car insurance, funeral cover is an essential product that should be taken very seriously. Read More
Who Can I Cover Under My Policy?
---
Spouse (Girlfriend or Boyfriend)
Children
Parents
Extended Family
Grand Parents
Employees
Domestic Worker
Groups, Unions, Churches etc.
Who Needs Funeral Cover?
---
In desperate economic time, everybody in South-Africa should fit themselves with some sort of funeral insurance. Funeral cover is the responsible thing to do. We provide a policy for every age bracket. The younger generation can include family members on their policy. This means you can even include your parents and grandparents. You can cover your girlfriend or boyfriend, cousins, aunts uncles you name it. It's always paramount to take out a funeral policy at a younger age. Read More
This way you can definitely ensure that you keep your monthly premium as low as possible. Some youngsters might claim that due to their health and current age they are less likely to die. This might be true, but accidents happen all the time. Death does not discriminate against age.
Why Do I Need Funeral Cover?
---
Your Family Will Have Access to Funds Quickly
Get Various Free & Optional Funeral Benefits
Get Professional Funeral Services
Your Family Will Not Incur Debt to Bury You
Death Can Happen Unexpectedly
Death is inevitable
Reduce Family Trauma
Peace of Mind
Getting Funeral Cover Online
---
With Funeral Cover Me, you will not pay any extra fees or premiums. Our service is 100% free. We are owned and maintained by by InShoor™, a registered financial services provider # 43216. This means that we are authorised to represent the respective providers directly. This allows us to make this a free service. We do not provide your details to any third party companies. We arrange everything directly from our own offices.
What is the difference between getting funeral cover from a broker or online? It's the absolute convenience of getting cover without hassle. We provide a national service. We can arrange your funeral cover without you ever having to leave your house. You can apply from a cabin in the woods; we will arrange your cover regardless. We have representatives that can visit you if you are in the Gauteng area. We can, however, arrange your funeral policy over the telephone.
We comply with the FSB rules and regulations. In the technology age, most people prefer to get funeral cover online. By getting this funeral cover online, you have the opportunity to study every provider in depth. With this knowledge, you make an informed decision. All the providers we represent are well established Read More
Do I Have to Get A Medical Exam?
---
The answer is plain and simple. No. With most affordable funeral cover providers, you do not have to go for any medical examination. You don't even have to answer any uncomfortable medical questions. All the funeral cover providers we represent guarantee your acceptance. They will issue your policy without you having to spend time at a local clinic. Funeral cover providers will usually give you the advantage.
There will, however, be a 6 month waiting period for natural causes. This simply ensures that you don't take out a policy for a person that anticipate death. This is a basic industry standard and should not scare you at all. Remember, it's always best to get funeral cover while you are healthy and strong. This will ensure that you are fully covered if you need it the most. Accidental death will usually be covered from the very first premium. Most providers offer additional accidental death benefits. This will help justify the 6 month period on natural causes.
Who Do You Represent?
---
We represent three of South-Africa's leading funeral cover providers. They are AVBOB, Metropolitan Life & Discovery Life. They have all proven themselves in the industry and provide solid products and services. We have a long standing relationship with every provider. We are willing to stake our reputation on every listed provider.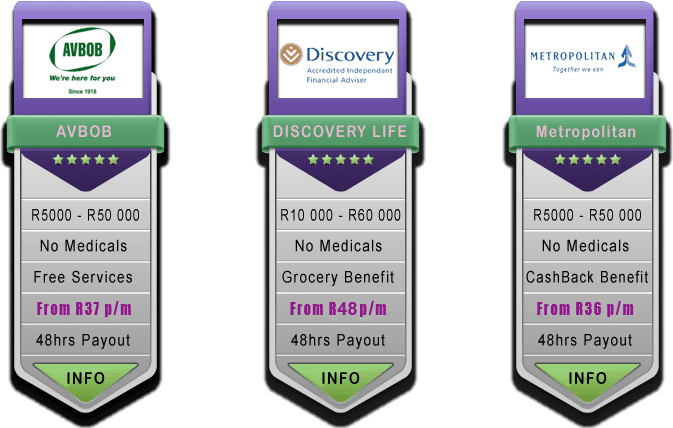 Below you can find a quick synopsis on every provider.
---
---

AVBOB was established in Bloemfontein way back in 1921. They have since become one of the biggest providers in the industry. With AVBOB funeral cover, you will get a cash payout, and funeral arrangement service. This means that, with AVBOB, you will get your specified cash amount, and ample benefits. You can use your cash benefit to arrange the funeral yourself. Alternatively you can make use of them to arrange the funeral for you. By using AVBOB, you will receive many free benefits. This will ensure you can arrange the best imaginable funeral. AVBOB provides their clients with a cash back option every 60 months, provided no claim was made. AVBOB will payback 1 years premiums in full every 5 years. With this promising provider, you know you will be fully taken care of in a time you need it most. Get Up To R50 000 cover.
---
---

Discovery Life is a cash only benefit with great policy benefits. As you would expect, with Discovery Funeral Cover, you will receive innovative benefits. They provide an optional Education, Grocery and other top notch benefits. There will be no medicals required. You don't even have to answer any uncomfortable medical questions. With Discovery Life, you can have between R5000 and R60 000 cover. This is the highest cover amount we have on offer. There are interesting optional benefits available. This product does not insist any other Discovery Life products. With Discovery Life, you can rest assured that your funeral policy will be in good hands.
---
---

Metropolitan Life is a straight forward and to the point funeral insurance plan. They will provide you with a cash payout between R5000 and R50 000. Metropolitan will present you or your family with a cash payout within 48 hours. Provided you submit the relevant documents. Metropolitan funeral cover guarantees your acceptance. There will be no medical examinations required. They are a well-known, established benefits with a solid client base. You can cover yourself, family or employees under the Metropolitan Funeral plan.. With Metropolitan, you can have a maximum of R50 000 funeral cover.
How Do I sign Up Today?
---
It's very simple; you can sign up today for your funeral plan. All you need to do is complete our little form. A representative will call you back as soon as possible. If possible, we will visit you in person. If you are out of driving radius, we will arrange your funeral plan via our call centre. Getting affordable funeral cover has never been easier.

---