---
Funeral Cover ME Mobile Page
---
Our system has detected that you are using a mobile device. To provide you with the best experience, we have created mobile pages for every provider. Alternatively you can visit our desktop site by clicking here
---

About Us
---
Funeral Cover ME is an innovative way to find affordable funeral cover in South-Africa. This service is rendered by Inshoor, a registered financial services provider. Inshoor was rewarded top AVBOB broker in South Africa in 2012 & 2013. This service is absolutely free – it does not cost you a cent to sign up with our service.
What is Funeral Insurance?
---
Funeral cover is a type of insurance. Burial insurance will ensure that funds are made available quickly when you pass away. Most of us have a life insurance policy. A life insurance policy can take months to deliver any funds. With most funeral insurance providers, you will have funds available within 48 hours of a claim. This ensures that when we die, our family will not struggle financially.
The Benefits of Funeral Insurance?
---
There are various benefits to having burial cover. First of all there will be funds available quickly. With most providers, you will be able to include various family members. You can ensure funds for less fortunate family members. With most funeral plans, you will receive a multitude of benefits. Below are some benefits offered by the providers we represent: The listed benefits are selected from all providers.
Lump Sump Cash Pay-out
Accidental Death Cover
Access to FREE Funeral Services
Transportation of Deceased
Discounts on Tombstone & Coffin
Registration of Death
Use of Hearse
Grocery Benefits
Education Benefit etc.
Who Needs Funeral Insurance?
---
Everybody needs to make provisions for when we die. Death is inevitable and does not discriminate against age. With most funeral insurance providers, you will be covered for accidental and natural causes of death. As a matter of fact, most providers will actually increase the pay-out if you die as a result of an accident. Young or old, everybody needs to ensure that there are funds when the die.
Whom Can I Cover Under My Policy?
---
With most burial insurance providers, you will be able to cover direct and indirect family members. Some providers even allow you to cover your domestic worker. Below are some examples of people you will be allowed to cover under your policy:
Spouse (Wife, Fiancé, Girlfriend / Boyfriend)
Children, Adopted Children, Step Children
Parents, Parents-In-Law, Grandparents
Brother, Sister, Brother-In-Law, Sister-In-Law
Uncle, Aunt, Nice, Nephew
Employees & Groups
Domestic Worker
How Much Cover Can I Get?
---
All the providers we represent have a minimum of R5000 cover. This is in most cases not enough to pay for an entire funeral. The maximum amount of cover you can get using our service is R60 000. This amount is the cash benefit and does not include extra benefits. For example with some providers, if you die as an accident, your cover will double. The maximum amount will be different for different relationships. With most providers, there are limits for certain extended family members.
Why Should I Use Your Service?
---
PrimeSure is a registered financial services provider. We specialize in funeral cover. We only represent the top providers in South-Africa. We offer this service absolutely free; there are no additional costs to sign up with our service. You will always speak to the same consultant; we do not outsource our service. This means that you will receive just one phone call and always speak to the same agent.
Below are some reasons why you should use us.
Top AVBOB Broker in SA – 2012 & 2013
No Additional Costs to Sign Up
Top Providers in South-Africa
Professional, Dedicated Staff
FREE Funeral Cover Quotes
Apply In Any Language
EASY to Sign Up
National Service
How Does It Work?
---
We offer you all the information to find the best funeral plan for your needs. We have listed all the benefits each provider has to offer. This allows you the opportunity to research every provider we have to offer. We do our best to make signing up with our service as easy as possible. Once you have a quote that suits your needs, we will arrange your cover at no additional cost. Below are the steps to get covered
Step 1: Find a Preferred Provider
Step 2: Complete Our Contact Form
Step 3: We Phone You with Information
Step 4: You Get Your Free Quote
Step 5: We Send You the Application Forms
Step 6: You Return the Application Form
Step 7: You Sit Back & Relax
---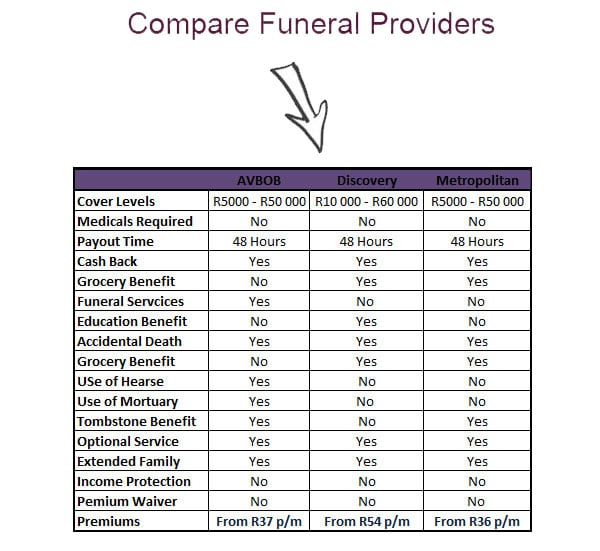 Direct Contact Details

---
We provide a national service but are based in Centurion.

Address: 5 Kersieboom Crescent, Centurion, 0157

Tel: 012) 663-4923

Fax: 086 714 9759
Email: info@inshoor.co.za