Funeral Cover for Young People
---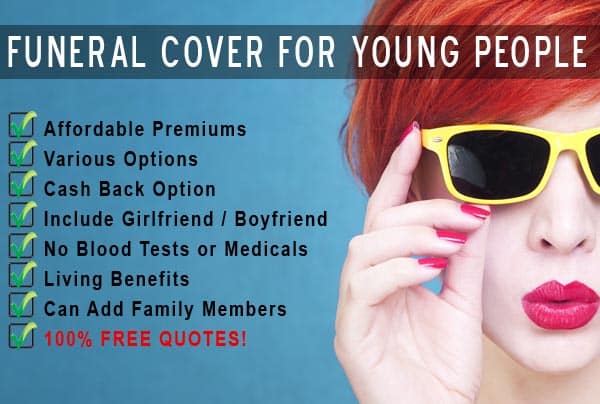 As a young person, the last thing we want to do is spend money on useless products & services. When it comes to insurance, often we feel that we are getting robbed. That is usually until something goes wrong. Insurance is a sure way to protect our most valuable assets. Funeral Insurance is there to ensure that if you pass away, our families will be taken care of financially. Funeral Cover for Young people is vitally important.
Much like insuring your car or home, funeral insurance is there to make sure that your loving family does not have to struggle financially. In modern time, funeral cost a lot of money. Allowing your family to take part of your remains is the responsible thing to do.
There are many providers that do their best to accommodate young clients. For example, AVBOB Funeral Cover, & Metropolitan Funeral Cover provide a cash back option. This means that you will get some money back if you don't claim. This is just one way funeral cover providers try and encourage younger people to take part. Other providers like KGA Life have "living benefits". This plan was specifically designed with young people in mind. With the innovative new KGA Lifestyle Funeral Plan, you get benefits to enjoy while you are alive. This includes discounts at almost 200 stores, accommodation and other useful services. You can even get discount on education, airtime and Tom-tom GPS devices.
When you apply for your new funeral plan, you can decide who you want to cover, with plans like AVBOB & Metropolitan, you can add a large family. You can cover your girlfriend, adopted and step children under your funeral plan. You can even cover your parents or grandparents.
Funeral Cover for young people has many benefits. Due to your age, your funeral plan will cost substantially less. Some funeral policies will have a paid up benefit. This means that, at a certain point, your premiums will cease   although your cover will remain.
A very important factor to consider, people don't just die of natural causes. Accidents happen all the time. It's naive to think that just because you are young, you are less likely to die. Anybody can die at any time. Funeral cover for young people is very affordable and should be embraced by the youth of our nation.
---