Risks of Not Having Comprehensive Funeral Cover
---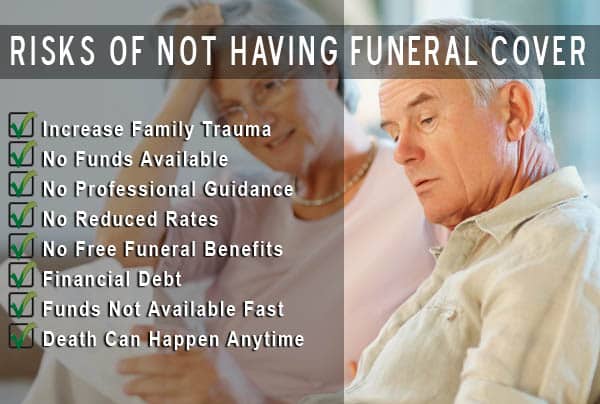 This is a question that is usually raised by younger people. If you have been around the block, you will know the impact of not having comprehensive funeral cover. Funeral cover is a product that is often overlooked by those who have not been involved in arranging a funeral. Funerals today have become an expensive life event.
As we all know, dying is an inevitable occurrence. Sooner or later we will all die. Being prepared for this unavoidable day might be the smartest thing you can do. Death does not choose according to age or health status. Anybody can die on any day.
One of the major risks of not having comprehensive funeral cover is the toll it might take on your family. When there are no funds available, the family must contribute. This can sometimes be a painful situation in an emotional time. Surely the last thing you want for your family is to try and scrape funds together to bury you. Considering what it costs to arrange a decent funeral, not having comprehensive funeral cover can be a major risk.
Some of the products and services that will be required to arrange a deserving funeral:
Coffin / Casket.
Tombstone.
Name Plate for Coffin.
Venue Hire.
Catering at the Church.
Catering at Home.
Transportation of the deceased.
Transportation for Family Members.
Mortuary Costs.
Undertaking Costs.
Funeral Arrangements e.g. Telephone Calls.
Pamphlets.
Musicians.
Flower Arrangements.
Use of Tents.
Use of Hearse etc.
Risks Associated with Not Having Comprehensive Funeral Cover:
---
Increase Family Trauma
No Funds Available
No Professional Guidance
No Reduced Rates
No Free Funeral Benefits
Financial Debt
Funds Not Available Fast
Death Can Happen Anytime
The above lists are just some of the products and services required. Having comprehensive funeral cover can take care of the above lists on you behalf. Some funeral cover providers even provide some of the services mentioned.
The best way to avoid the trauma imposed on your family is to have comprehensive funeral cover. This type of insurance will ensure that your family will be financially stable if you pass away. You can also include other family members on your policy. This can help take the weight of your shoulders. Including reliant family members on your policy, will ensure that you have funds available when you need it the most. Be responsible, get your peace of mind today.
At Funeral Cover Me, we provide comprehensive funeral cover quotes. We do not charge you a cent. Simply complete our quick contact form. We will do the rest.
---