Comprehensive Funeral Cover & The Holidays

---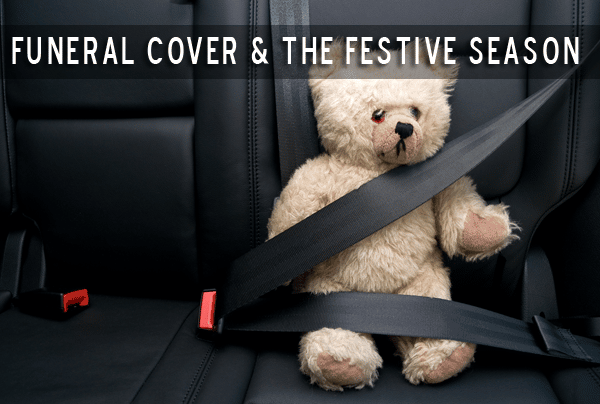 For many of us, December is a time for fun and joy. A lot of South-African's will go on holiday with their families. Unfortunately, this is not a time of sun filled activities for everybody. Not having comprehensive funeral cover during this time can have catastrophic results.
According to Arrive Alive, the following statistics are based on December 2011:
---
1474 people had fatal car accidents from 1 Dec 2011 – 11 Jan 2012.
Most vulnerable ages 18 -29.
Most common crash time 19h:00 – 23h:00.
Most common causes of accidents:
---
Speeds too high for conditions.
Dangerous, reckless and/or inconsiderate driving.
Abuse of alcohol by both drivers and pedestrians.
Driver fatigue
Vehicle fitness, particularly tyre failure and defective brakes.
Various pedestrian negligence.
December is a festive time; the last thing we want to do is have negative thoughts. The reality, however, is that a lot of accidents happen during this time. Many people postpone getting comprehensive funeral cover during this period, simply to use the money for fun activities. This can be the worst decision you can make. The cost of getting comprehensive funeral cover for a month is less than taking your family out to a restaurant once. Not having comprehensive funeral cover during this time can cause your family a lot of grief if something where to happen.
During the holidays, often the cause of the accident can be as a result of a drunk driver. Drinking and driving during the holidays can be a fatal mistake. Don't EVER drink and drive. We also all know that sometimes it's beyond our control. A drunk driver can crash into your vehicle, even if you abide the law. So don't assume because your family is responsible that nothing can happen to you. Accidents happen all the time. We can't control when and where an accident might occur. Being prepared for the worst is the responsible thing to do. Comprehensive funeral cover does not have to cost your family a fortune. Don't regret not spending just a little extra on your holiday preparations.
Don't delay; get your comprehensive funeral cover before you go on holiday. It's not worth taking the gamble. Getting an affordable funeral plan is easy. Simply complete our contact form anywhere on our website. A friendly consultant will give you a call to explain everything to you.
We wish everybody a safety festive season. Please be responsible, don't speed and definitely don't drink and drive.
Thank you for your continued support during 2012.
We wish you a very Merry Christmas and a happy new year.
---