Tips to Compare Funeral Cover
---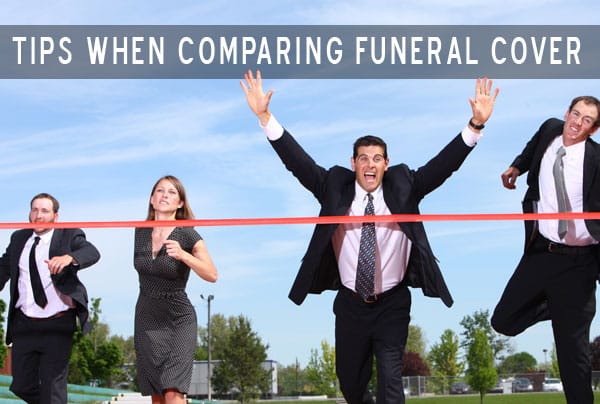 A very important factor to consider when you compare funeral cover is your own needs. Most funeral plans will cover the basics. You need to establish what the required covered amount is. Armed with this information, it will be much easier to make an informed decision. We always advise our clients to compare funeral cover before requesting a quote.
Usually the most important benefit will be your cash pay-out. The main aim of getting funeral cover is to cover the costs of the funeral. It's always nice to have additional benefits, but this should not be the focus point. Firstly, you need to look at the insured amount compared to the funeral plan cost.
Secondly it's a smart thing to look at the additional benefits. Some funeral cover providers will give you an additional cash pay-out if you die as a result of an accident. It's necessary to use this information when you compare funeral cover providers. Most providers need to lure customers with great additional benefits. This is sometimes the only thing that sets them apart from their competitors. Use this to your advantage when you compare funeral cover. Familiarise yourself with all these benefits.
All the funeral cover providers we represent are trusted. They all provide great service to a large amount of South-African people. We represent AVBOB, Metropolitan and KGA Life. These providers have all shown great success. We made sure that we represent a broad range of providers. AVBOB Funeral cover provides a great cash & funeral services policy. Metropolitan offers a great cash only funeral plan, and KGA offers great living benefits. Selecting the right type of policy is important to ensure financial stability in a time of need.
It's great to compare funeral cover online. Using his method you can see all the benefits in one place. We have listed all the benefits the providers offer. This way you can study every provider before you choose the most relevant one. Feel free to use our website to improve your knowledge about funeral cover. Remember, our quotes are free.
---