AVBOB Funeral Plan

---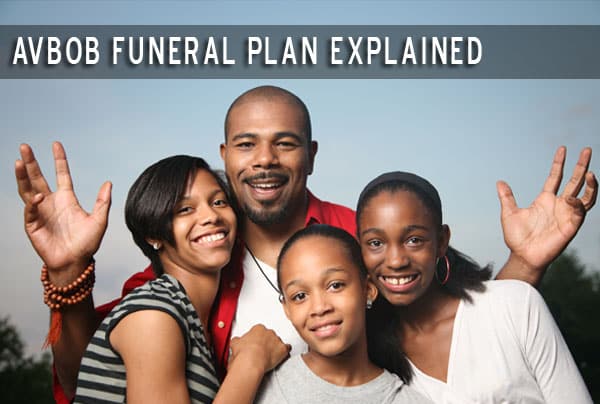 AVBOB Funeral Plan Explained
With the AVBOB funeral plan, you know you are in good hands. AVBOB was established in the early 1921. This should be proof that they have all the required experience in the industry. With the AVBOB funeral plan, you will receive all the services required to arrange a decent burial. Because AVBOB has been in business for so long, they can provide most services in-house. The advantage will be that you will definitely be able to get everything done from one provider.
Some benefits on the AVBOB funeral plan include:
Free transportation of the deceased anywhere in South-Africa.
Free use of their cooling facilities.
Free use of the hearse and lowering device.
Free use of the tents and chairs at the gravesite.
Free local telephone calls.
R2000 discount on a tomb of your choice. Etc.
The above benefits are free of charge if you make use of AVBOB to arrange the funeral for you. You will still get your insured amount in cash. This money can then be used for additional services, or anything you require. AVBOB will pay the cash benefit within 48 hours of receiving your required documents. This money can be used for fresh flowers, catering, house tents, family cars etc.
In short, with the AVBOB funeral plan, you will receive cash and free benefits if you make use of AVBOB to arrange your funeral for you. You can include extended family and direct family. You can include your life partner and unlimited dependent children. You only pay for the first child; the rest will be covered for free. Children can be covered up to the age of 21, unless they are full time students. If your child studies full time, you can cover them up to 25 years. You can choose between R5000 & R30 000 cover for the applicant.
AVBOB has been around for a very long time. Most people in South-Africa know and trust them. They provide a hassle free claim procedure with solid benefits. With the AVBOB funeral plan, you can rest assured that you are taken care of. The very last thing we want to worry about during the death of a family member is the burial process. AVBOB makes it as convenient and stress free as possible.
If you are looking fora large group, or individual funeral cover, the AVBOB funeral plan is for you. They provide affordable funeral cover with amazing benefits.
Should you require more information regarding AVBOB or the AVBOB funeral plan, feel free to contact us at any time. We can arrange your free quote, and if you are satisfied, we can arrange your cover for you. You don't even have to leave your house. We can arrange your in the most convenient manner. Our service does not cost you any additional fees.
---